Blog Insight:
Accessibility is not just a feature; it's a necessity. Our blog insight takes you on a journey into the realm of the "Top eLearning Accessibility Solutions Provider Platform," where users can seamlessly access a wealth of information, resources, and groundbreaking solutions.
How To Choose the Best Accessible Learning  Management Systems:
In today's diverse workplace, prioritizing inclusive training is non-negotiable. An Accessible Learning Management System (LMS) is the cornerstone for organizations committed to fostering an inclusive environment. It ensures that individuals facing auditory, visual, cognitive, and mobility challenges have seamless access to Learning and Development content, enabling diverse trainees to achieve successful learning outcomes.
Accessible LMS software goes beyond a single feature; it incorporates various features and design principles, emphasizing User Experience (UX) and interactivity. LMS UX is critical for every user, ensuring consistent learner outcomes across the organization. A truly accessible LMS flexibly accommodates the needs of all users, promoting inclusivity for diverse abilities and barriers.
To simplify your selection process, we've curated a top list featuring the best solutions for learning accessibility. Even for those unfamiliar with terms like Section 508 LMS compliance, ADA, and WCAG, our list provides valuable insights and tips.
The Best Accessibility Solutions Provider:
Kyteway eLearning
Date of Foundation: 2016
CEO and Co-Founder: Syed Ahmed Hasan
Company Overview: Kyteway, a team of passionate eLearning professionals, excels in instructional design and development, committed to supporting diverse learning solutions. Serving as an extended team, their varied skill sets ensure the success of training goals. With extensive eLearning industry experience, Kyteway is dedicated to delivering high-quality training solutions tailored to different complexities.
Specializing in bespoke eLearning solutions, learning strategies, translation, localization, course redesigning, instructional design, and content development, Kyteway crafts engaging learning experiences. As a leading eLearning development vendor, they provide custom solutions that enhance workforce skills, behaviors, and performance, yielding real-time results.
Phone Number: +918367541407
Email ID: contact@kyteway.com
Website: http://www.kyteway.com
Headquarters: Hyderabad, Telangana & USA
Services: Content Writing, eLearning Services, Custom eLearning, eLearning Content Development, Blended Learning, Rapid eLearning, Corporate Training, Training Strategies, Instructional Design, Bespoken Learning, curriculum design & content development, elearning solutions, training outsourcing, corporate learning, accelerated learning, innovation training, telehealth training, wcag, Digital Accessibility, Accessible eLearning ,Section 508
Industry: E-Learning
Company size: 50+ employees
LinkedIn: Kyteway eLearning | LinkedIn
---
Zeus Learning
Founded In: 2000
CEO and Co-Founder: Ashutosh Garg
Zeus Learning is one of the oldest companies in the eLearning Content development field which has expanded its business to North America, India, and Europe and has worked with many international companies and is an award-winning company for its expertise in providing cutting-edge solutions in software services.
Phone Number: 781.367.4228
Email ID: contact@zeuslearning.com
Website: https://www.zeuslearning.com/
Headquarters: Mumbai, Maharashtra, India
Services: Content & Animation, Design & Usability, Product Engineering, Software Simulation, QA & Testing, LMS, CMS & TEI System, Mobile & HTML5 Development
Industry: E-Learning
Company size: 450+ employees
LinkedIn: Zeus Learning | LinkedIn
---
UPSIDE Learning
Year of Foundation: 2004
CEO and Co-Founder: Amit Garg
Upside Learning is an Indian-based Custom eLearning provider that completed 17+ years of experience in the E-Learning industry and has developed over 8000+ hours of Learning Content in 5000 projects of the company the company's engaged learning content is making its name among the top vendors in the Corporate Training Industry.
Phone Number: +91-20-2523 6050
Email ID: elearning@upsidelearning.com
Website: https://www.upsidelearning.com/
Address: Pune, Maharashtra, India
Services: E-Learning, Mobile, Outsourcing
Industry: E-Learning
Company size: 150+employees
LinkedIn: Upside Learning Solutions | LinkedIn
---
Tenneo (Formerly G-cube)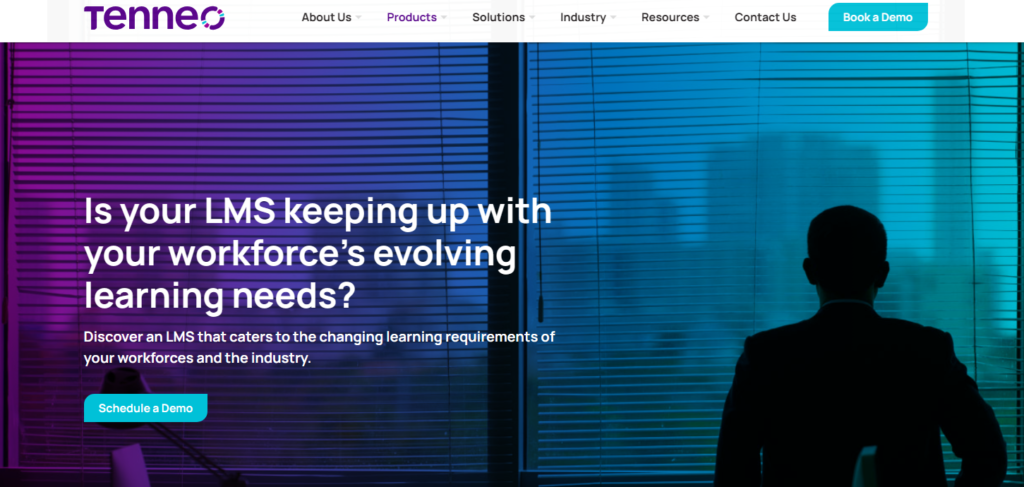 Date of Foundation: 2000
Company Overview: Tenneo, a part of the MRCC group and formerly G-Cube LMS, has been a trailblazer in employee learning products since 2000. Operating at CMMI Level 3, Tenneo's innovative solutions have created a global impact with over 300 LMS implementations, serving a user base exceeding 2 million.
With a vision to enhance the employee learning journey, Tenneo has earned over 100 industry awards, solidifying its standing in the global market. Their philosophy centers on the belief that technology propels change, and partnerships sustain it, leading to what they term "Seamless Success."
Tenneo promises this Seamless Success by ensuring minimal disruptions and seamless integration with existing tech stacks and workflows. Offering a range of solutions, including a Learning Management System (LMS) and Learning Performance Platform (LPP), Tenneo is shaping the landscape of performance-driven learning environments for organizations worldwide.
Phone Number: +91-120-6955-000
Email ID: info@tenneo.com
Website: https://tenneo.com/lms/
Headquarters: Billerica, Massachusetts
Industry: Software Development
Company size: 450+ employees
LinkedIn: Tenneo: Overview | LinkedIn
---
EI
Date of Foundation: 2002
CEO and Co-Founder: Rahul Arora
Company Overview: EI, an emotionally intelligent learning experience design company, brings three decades of expertise to Digital Transformation journeys. Their high-impact solutions drive meaningful learner engagement, effective upskilling, and improved employee performance, ensuring a strong ROI.
Employing a "triad of value" approach, they use engaging interactivities to capture attention, build habits, and enhance learning retention. Clients see EI as a strategic partner, valuing their processes, agile model, trustworthiness, and innovative solutions.
Phone Number: (080) 25202677 46246464
Email ID: sales@eidesign.net
Website: https://www.eidesign.net/
Headquarters: Bangalore, Karnataka
Services: Flash to HTML5 migration, Content Development, Rapid eLearning Development, Localisation, ILT / VILT development, Performance Support Tools, Gamification, Blended Learning, Compliance Training, Microlearning, Mobile Learning, Apps for learning, AR/VR, and Video-based learning
Industry: E-Learning
Company size: 4,500+ employees
LinkedIn: EI | LInkedIn
---
Levelaccess
Date of Foundation: 1997
CEO and Co-Founder: Tim Springer
Company Overview:
Level Access stands at the forefront of digital accessibility solutions, offering a powerful platform and an unparalleled depth of accessibility expertise. Their mission is to assist organizations in crafting websites, mobile apps, software, and various technologies that are not only accessible but also legally compliant.
With a track record of supporting accessibility initiatives for thousands of entities, Level Access caters to a diverse clientele. From Fortune 500 enterprises to public sector and government agencies, educational institutions, and businesses of all sizes in the private sector, they provide comprehensive solutions.
Level Access's commitment goes beyond compliance; it empowers organizations to create digital spaces that are inclusive and accessible to all. With a blend of cutting-edge technology and a wealth of accessibility know-how, Level Access is a trusted partner for entities striving to navigate the complex landscape of digital accessibility.
Phone Number: 1-800-889-9659
Email ID: INFO@LEVELACCESS.COM
Website: http://www.levelaccess.com
Headquarters: Vienna, Virginia, USA
Services and Solutions: Web Accessibility, Section 508, WCAG, CVAA, AODA, ADA, Compliance, A11y, and VPAT
Industry: IT Services and IT Consulting
Company size: 500+ employees
LinkedIn: Level Access | LinkedIn
---
Siteimprove
Date of Foundation: 2003
CEO and Co-Founder: Morten Ebbesen
Company Overview: Siteimprove, a thriving $100M ARR SaaS company, is dedicated to empowering businesses to unlock their digital potential. With a people-centric approach, they focus on creating web experiences that are accessible, purposeful, and high-performing for users of all backgrounds.
The company is a trailblazer in content experience, inclusivity, and marketing performance, boasting a team of 550+ employees who cater to over 7,000 customers globally. Siteimprove's commitment to true inclusivity extends beyond its services; it actively collaborates with key accessibility groups such as the W3C and IAAP to shape international standards.
Moreover, their engagement with the United Nations reflects their dedication to advancing web accessibility and digital inclusion on a global scale.
Website: https://www.siteimprove.com/
Headquarters: København, K, Europe
Services and Solutions: Web Quality Assurance, SEO, Web Analytics, Enterprise Search, Website Monitoring, User Experience, Webmaster Tools, Web Accessibility, Content Quality, Digital Analytics, GDPR, and search engine optimization
Industry: Software Development
Company size: 500+ employees
LinkedIn: Siteimprove | LinkedIn
---
Deque Systems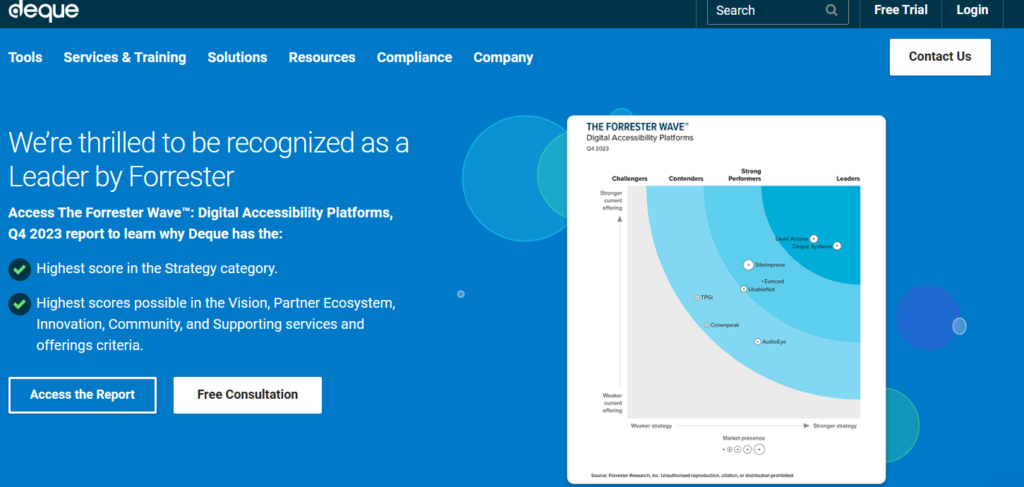 Date of Foundation: 1999
CEO and Co-Founder: Preety Kumar
Company Overview: Deque, a web accessibility powerhouse, is on a mission for Digital Equality. With a firm belief in universal access, they dedicate themselves to ensuring that everyone, regardless of ability, enjoys equal access to web content.
Specializing in web accessibility software and services, Deque collaborates with enterprise-level businesses and organizations. Their focus is on guaranteeing accessibility for sites and mobile apps, striving to make the digital landscape inclusive for all.
Boasting an impressive track record, Deque's solutions are embedded in over 475,000 browsers, and they've successfully completed 5,000+ audit projects. As the industry standard, Deque stands at the forefront of fostering accessibility and inclusivity on the web.
Phone Number: 1-703-225-0380
Website: https://www.deque.com/
Headquarters: Herndon, Virginia, USA
Services and Solutions: NFB Certification
Industry: Software Development
Company size: 450+ employees
LinkedIn: Deque Systems | LinkedIn
---
AbleDocs
Date of Foundation: 2019
President & CEO: Adam Spencer
Company Overview:
Established in 2019, AbleDocs has swiftly emerged as the global frontrunner in document accessibility solutions. With a pervasive presence in seven countries, they stand as the Worldwide Leader in this domain.
AbleDocs provides a comprehensive suite of products and services tailored for organizations. Their offerings span high-volume document accessibility compliance, thorough document accessibility testing, specialized accessibility training, and comprehensive web accessibility compliance solutions.
As the torchbearer in the field, AbleDocs has positioned itself as the go-to resource for ensuring that organizations navigate the complexities of digital accessibility seamlessly. From compliance to training, they are at the forefront of driving a more inclusive digital landscape.
Phone Number: (905) 318-6800
Website: https://abledocs.com/en/
Headquarters: Oakville, Ontario, Canada
Services and Solutions: AODA, PDF/UA, a11y, Section 508, Accessibility, ePUB, and MathML
Industry: Digital Accessibility Services
Company size: 150+ employees
LinkedIn: AbleDocs | LinkedIn
---
The Paciello Group (TPG) The Paciello Group is now TPGi!
Date of Foundation: 2002
CEO and Co-Founder: Mike Desorda
Company Overview: TPGi (formerly The Paciello Group) is a distinguished accessibility consultancy recognized for its excellence. Since its acquisition by VFO Group in April 2017, TPGi has been a global leader in achieving end-to-end accessibility for digital assets like websites, applications, and documents.
As part of the VFO™ Group, renowned for assisting the visually impaired, TPGi collaborates worldwide across diverse vertical markets. Trusted by prominent global brands, TPGi is committed to excellence and actively contributes to global accessibility standards.
Offering a comprehensive lifecycle of accessibility services, TPGi is your trusted partner from strategy to implementation. Their services include accessibility testing, WCAG/Section 508 compliance audits, VPAT analysis, training, user testing, design reviews, and strategic planning. TPGi ensures the seamless integration of accessible user experiences throughout your product development lifecycle.
Phone Number: +1 877-775-9474
Email ID: info@tpgi.com
Website: https://www.tpgi.com/
Headquarters: Clearwater, Florida
Services and Solutions: Software, Web accessibility, Accessible user experience, Section 508, Accessibility testing, Accessible design, Accessibility training, Kiosk Accessibility, Digital Accessibility, WCAG, Screen Readers, User Experience, Accessibility, and ADA
Industry: IT Services and IT Consulting
Company size: 150+ employees
LinkedIn: TPGi | LinkedIn